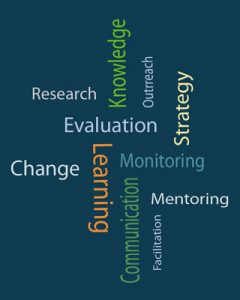 ABOUT ME
I hold a Ph.D. in biology and founded the agency 'rf-projektagentur' in 2003. Since 2008 I am working as an independent consultant in change and impact management. An important pillar of my work is the close collaboration with an international partner network of clients, colleagues, experts, organizations and institutions from a broad range of disciplines.
MY PASSION
In both the profit and non-profit world my passion is to strengthen collaboration and enhance the generation and sharing of the knowledge needed for decision taking.  My vision is that based on a good knowledge basis we can jointly develop innovative and effective ways that will lead to relevant and sustainable results and – ultimately – clearly visible improvements.
MY SERVICES
I enjoy working with people to help them find changes for their own, their organizations' and their programs' benefit. Across sectors, I support institutions, companies, communities and individuals in strategy development, monitoring and evaluation, research, knowledge and project management, and communication.
RECENT WORK:  For the Ministry for Foreign Affairs of Finland I led an evaluation assessing the improvement of women's and girls' rights in their development policy and cooperation.  Read more…